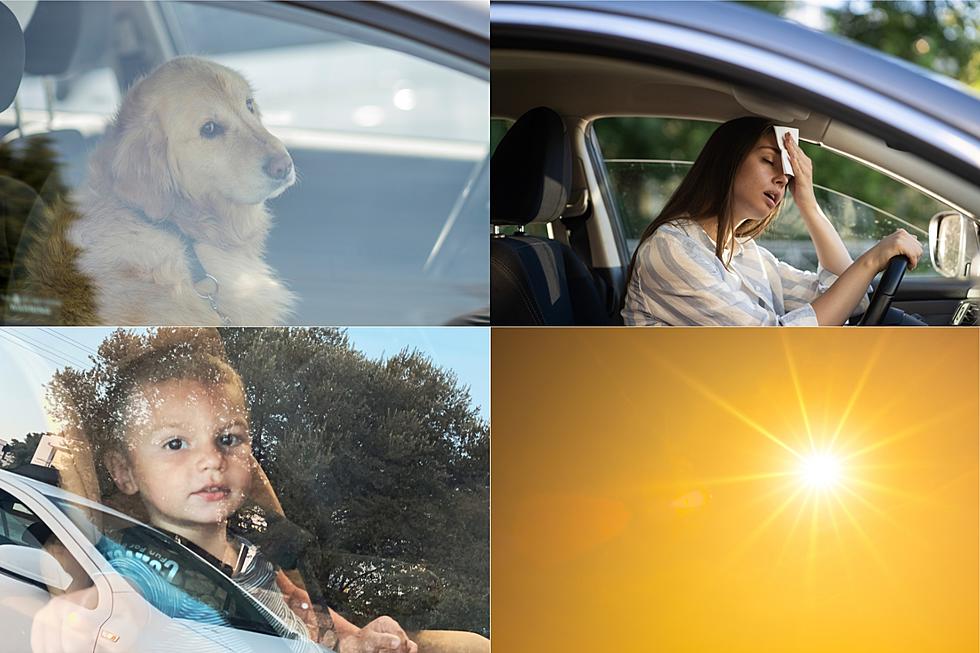 The Tri-Cities Will Heat Up With Potentially Deadly Consequences
Canva
The Summer wave of heat is expected to make it's annual visit to the Tri-Cities shortly.  The waaaay extended forecast (next 30 days) are expected to bring less than a handful of days under 94 degrees.
Most that have lived here are used to it and can plan accordingly.  We still sometimes forget other, more serious impacts of the heat...even if it doesn't feel that hot outside.
Your Car Can Be Deadly
Multiple studies have been done over the years regarding vehicles and how the sun impacts the temperature inside.  It isn't a matter of leaving your windows cracked, or rolled all the way down, it is a matter of the sun itself.
A study done in 2005 by the Stanford University School of Medicine gave tremendous insight on the rate of temperature increase and the factors involved.  The study cited that children have died in cars when the temperature outside was only 70 degrees.  Earlier this year in Puyallup, a one-year-old child died after being left in a car for nine hours in temps between 70 and 75 degrees outside.  The car's internal temperature was 110 degrees.
What is the Science?
The Science says that regardless of ambient temperature (the average temperature of an environment), the inside of a car can increase 40 degrees in 60 minutes on a sunny day.  Eighty percent of that increase comes in the first 30 minutes.  You can see where the warnings about leaving people and pets in cars are founded.
Shade does have an impact in slowing the rate of increase in a vehicle, but it doesn't prevent that vehicle from reaching potentially fatal temperatures inside.  Researchers in The Stanford study also found that cracking a window before exiting the vehicle had a negligible impact on the internal temperature, as did running the air conditioner before turning off the vehicle.
The Sobering Statistics
On average, 38 children die each year from being left inside a car for too long.  In 2023 there have already been 11 children whose deaths have been attributed to a hot vehicle.  Since 1998, nearly 1,000 children have died due to heatstroke from being left in a car.  The most sobering aspect is that every single one of those deaths could have been prevented.  Most died because a parent, guardian, or caretaker did not come back to the car in a reasonable time frame.
Dogs can suffer heatstroke if their body temperatures increase 36 degrees.  It can take as little as fifteen minutes for a dog to die from heatstroke in a hot car.  That is no way to treat man's best friend.  Hundreds of dogs die each year of heatstroke from being in a hot car for too long. Dogs only cool themselves by panting so they can't cool themselves fast enough to compensate for the increase in temperature in your car.
Signs of Heatstroke
In children symptoms include:
Hot, flushed skin with high fever over 105° F (40.5° C). More than 50% of children with heatstroke do not sweat.
Confusion, coma or shock.
In dogs symptoms include:
Excessive panting or difficulty breathing. If your dog is panting constantly or faster than normal (hyperventilation), they could be overheated. ...
Dehydration. ...
Excessive drooling. ...
Fever. ...
Bright red, gray, purple, or bluish gums. ...
Lack of urine. ...
Rapid pulse. ...
Muscle tremors.
With temperatures expected to hold in the mid 90s and above for the next number of weeks, you can leave Fido at home for a quick run to the store and it is OK to take the kids in with you.  You never know if that five minute run into the store on a 93 degree day will turn into thirty minutes before you know it.  The last thing you want to see next to your car when you come out are the police, or worse.
LOOK: Here Are 30 Foods That Are Poisonous to Dogs
To prepare yourself for a potential incident, always keep your vet's phone number handy, along with an after-hours clinic you can call in an emergency. The ASPCA Animal Poison Control Center also has a hotline you can call at (888) 426-4435 for advice.
Even with all of these resources, however, the best cure for food poisoning is preventing it in the first place. To give you an idea of what human foods can be dangerous, Stacker has put together a slideshow of 30 common foods to avoid. Take a look to see if there are any that surprise you.