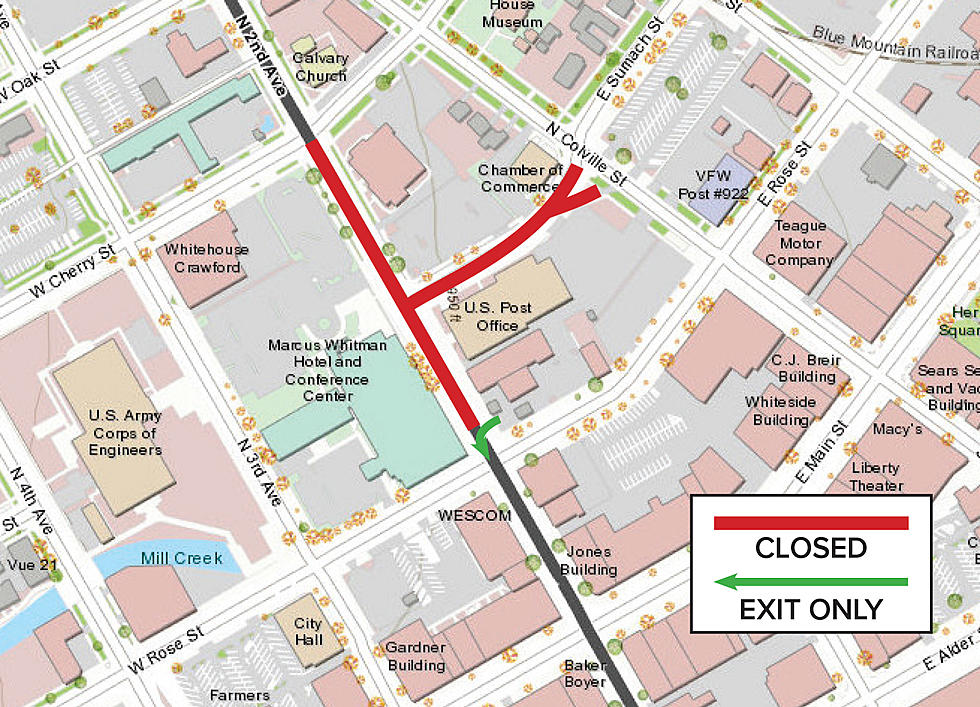 Further Update on Walla Walla Gas Leak
City of Walla Walla
Before you start reading, click here to read the previous update if you have not yet read up on the situation in Walla Walla.
The City of Walla Walla has released more information today regarding the mysterious gas leak plaguing a near four block section of the downtown area.
According to the press release, crews have drilled two inspection wells lined with a sequence of sand, clay, bentonite and concrete. These lined wells can be used to extract samples of groundwater for analysis.
Crews also expect to drill and line up to four more wells by week's end. These wells will be surveyed to determine the slope of the subsurface ground in the area. This is expected to show investigators the direction in which the groundwater is flowing and help lead them to the source of the contamination.
Pumping operations to remove more contaminated water resumed Wednesday night in the basement sumps at the Marcus Whitman Hotel; both of which continue to collect water. I incorrectly wrote yesterday that the Marcus Whitman was open to the public again, but that is not the case.
The team will also be taking samples from all the gasoline tanks at the near-by Chevron and Circle K gas stations. Those samples will be taken to Portland for forensic "fingerprint analysis." This testing could identify the age of the gasoline, its origin based on its specific additives and chemical makeup, aw well as several other facets of the fuel. Samples which have been taken from the above mentioned gas stations will also be compared to samples taken from the two affected buildings in order to see if there is a match between them.
Meanwhile, under the guidance of the Environmental Protection Agency, Clean Harbors installed additional precautionary collection booms into Mill Creek. However, on a positive note, continued observation by EPA staffers has detected no evidence of gasoline contamination entering Walla Walla's waterways.
Air-quality monitoring also remains in place in the area, and the Walla Walla Fire Department will continue to test the surrounding buildings for volatile organic compounds (VOCs) or LELs (lower explosive limits). So far the ongoing monitoring and testing has not detected the presence of those compounds in any new areas.
City staff will continue to provide these updates on the City website, https://www.wallawallawa.gov/gasoline as the situation changes.
PICTURES: Look Inside 'Yellowstone' Season 1, Episode 2: 'Kill the Messenger'
Yellowstone continues on CBS on Sunday (Sept. 24). Season 1, Episode 2, "Kill the Messenger," finds the Dutton family dealing with the fallout from the deadly confrontation at the Broken Rock reservation.
Gallery Credit: Billy Dukes