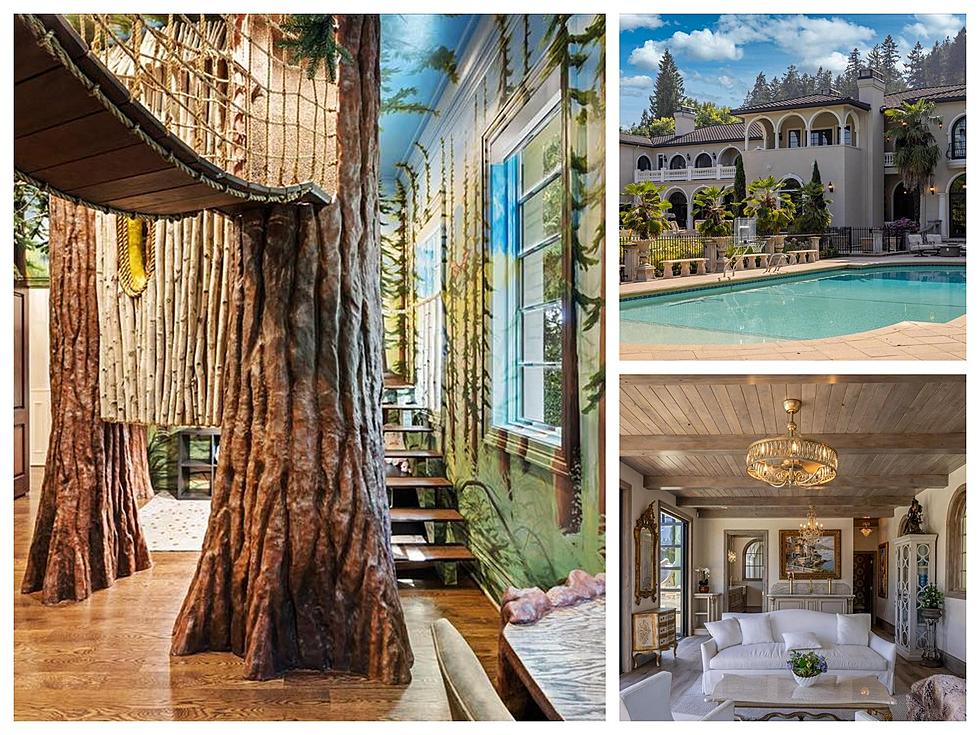 Unbelievable Oregon House Has a Spellbinding Hidden Disney Forest
pixlr/Source: RMLS (OR),
MLS#: 23150305
Peek Inside This Ultra-Rich  $11 Million Mansion In Lake Oswego Oregon
If you've got the money or win the lottery, this on-the-market mansion is a great place to drop a cool $11 million...wow...it's amazing inside and out.

Disney-like Forest Theme Complete With A Tree House Sleeping Area Is Awesome
I love the website Zillow Gone Wild and I got alerted to this awesome house in Lake Oswego Oregon. The coolest thing is this house features a Disney forest theme that any kid would love to explore.
Here are details from the listing:
South Beach comes to the banks of the Willamette River in Lake Oswego, Clackamas County.
An absolute jaw-dropping restoration to one of Oregon's most impressive estates. This 2.95-acre gated, sprawling domain is a resort unto itself.
This one-of-a-kind has everything the discerning buyer can imagine from a private gym to your own personal whiskey library, a ballroom that easily converts into a screening room.
The billiard parlor is equipped with a full bar and kitchenette, and the pool house has an indoor BBQ and catering area to stage events or chill your favorite drinks.
One of the main floor bedrooms is a young person's dream as it's been converted into a Disney-like forest theme complete with a tree house sleeping area.
Space for toys: the property comes complete with a deep water dock and boat lift, the upper garage has space for 4 vehicles while the lower has space for an additional 8+;
Oversized guest suites, multiple office/den spaces for the owners or staff, the primary bedroom has a dressing room and substantial closet, crow's nest reading room, nanny or in-law suite with living room, and more
Take a peek inside:
Unbelievable Oregon House Has a Spellbinding Hidden Disney Forest
Peek inside this amazing Lake Oswego Oregon mansion that has an usual Disney-like forest motif
Located at 12850 SW Fielding Rd, Lake Oswego, OR, this property could cost you $75,000 a month.
If you want to see more on this listing, click here.
12 Exciting Things to Check Out at Wallowa Lake Oregon
Ready to explore the stunning Wallowa Lake? Check out these twelve fun things to do and plan your trip today!
6 Charming Seaside Towns Worth Visiting in Washington State
So, pack your bags, put on your sunglasses, and get ready to explore some of the most enchanting seaside towns of Washington state.