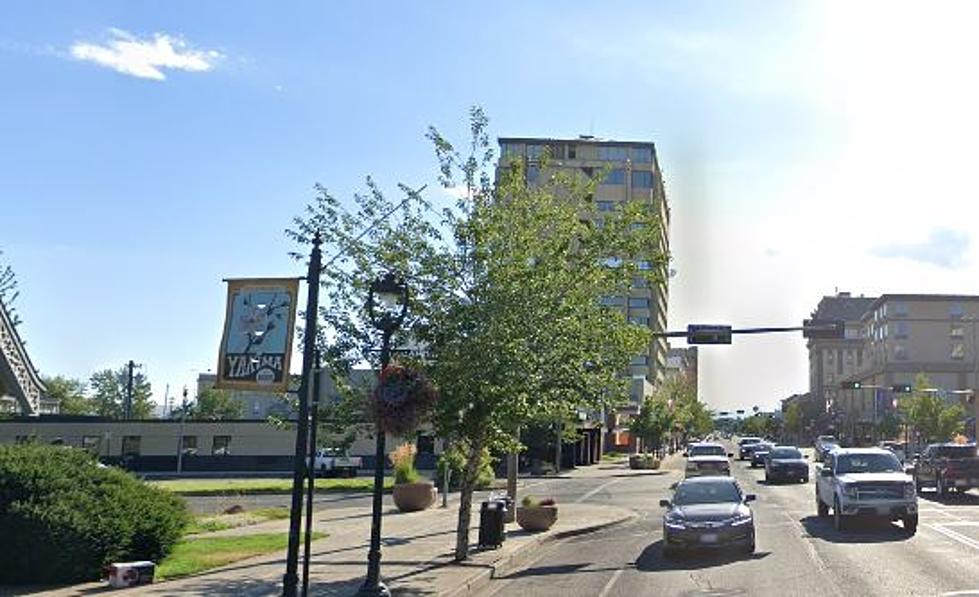 The Ultimate Insider's Guide to Restaurants in Downtown Yakima: Part 1
Google Street View
TL;DR Version: This is PART ONE of a series featuring the restaurants, cafes, coffee stands, breweries, and wineries that reside in the downtown Yakima area.

There are 45 dining options for restaurants in the heart of downtown Yakima.
WHAT ARE THE BOUNDARIES OF DOWNTOWN YAKIMA?
How many restaurants are located in downtown Yakima? I think it depends on what you consider "downtown." You could be referring to any of the streets within the perimeter of the heart of downtown Yakima, from the Burger King located on Terrace Heights Way all the way down to the end of Yakima Ave at S 16th Ave.
WHERE DOES DOWNTOWN YAKIMA END?
The best way to tell where "downtown Yakima" begins and technically ends is to just look for where the flower pots end. Yakima Ave is lined with beautiful flowers resting in pots on stands from S 7th Ave down to N 9th Street.
BRAGGING ABOUT THE HEART OF DOWNTOWN YAKIMA
The Yakima Valley Tourism and Convention Center has a cool link to a "walkable" downtown tour of sorts. The Downtown Association of Yakima brags that it's a "great place to work, to play, to live." How about including, "a great place to eat" in there? Nearly 50,000 people attended events held in Yakima in 2022, according to the Convention Center's annual report, which reinforces my point that restaurants in downtown Yakima are and always have been a vital piece of our local economy.
UNCOVERING DOWNTOWN YAKIMA'S CULINARY DELIGHTS
What kind of food are you looking for today? Downtown Yakima has all sorts of delicious and tempting options for you. Whether you're craving Mexican, Thai, sushi, continental-Indian, burgers, Italian, baked goods, ice cream, tea, smoothies, pizza, coffee, subs, sandwiches, fast food, and even beer, wine, or cocktails, there's a place for that!
Source: VisitYakima.com Annual Report 2022
45 RESTAURANTS LOCATED IN THE HEART OF DOWNTOWN YAKIMA
1. Sub Shop of Yakima
2. Yakima Thai Cuisine
3. Essencia Bakery
4. El Mirador 2
5. Burger King
6. Second Street Grill
7. Cowiche Canyon Kitchen & Ice House Bar
8. Sports Center
9. Gus' Pizza
10. Casa VittoRe
11. & Tea
12. Schab's Bier Den
13. Cafe on the Ave
14. North Town Coffee
15. Crafted
16. McDonald's
17. Thai House (2nd St)
18. Tea Garden (4th St)
19. E.Z. Tiger
20. Mickey's Pub
21. Mama Corie's Kitchen
22. Olive Garden
23. 8th Street Bistro
24. The Bistro at The Seasons
25. Single Hill Brewing
26. Main Stop on the Ave
27. Mercedes & Family/Erik the Mercedes Kid
28. Sumo's Sushi
29. Taco Bell
30. Mi Sazon
31. Avenida Cantina
32. Brews & Cue's
33. Golden Wheel
34. Lotus Room
35. PJ's Music Box
36. Purrr
37. Jimmy John's
38. Sweet Sisters Ice Cream Shop
39. Lulu's Lunchbox
40. Catalyst Coffee
41. The Depot
42. El Taco Loco
43. AntoLin Cellars
44. Kana Winery
45. Stems Winery
In Part 2 of this foodie series, I will give you a list of 74 more restaurants that, despite not being located directly within the heart of downtown Yakima, are still considered "downtown." Stay tuned (and hungry)!
MORE TO READ:
Got a news tip? Email us here.
LOOK: Do you know these iconic quotes from '70s TV shows
Stacker
looked through the vast array of groundbreaking 1970s television and identified 25 of its most iconic (and most memorable) quotes.
WOAH: 99 Signs You Were a Teenager in the '90s
Grab your Hypercolor T-Shirt and Bonnie Bell Lip Smackers because we're traveling in time to the most radical decade of them all. Only real '90s teens will remember these iconic pop culture moments--see how many you recall!
LOOK: Best Beers From Every State
To find the best beer in each state and Washington D.C., Stacker
analyzed January 2020 data from BeerAdvocate
, a website that gathers user scores for beer in real-time. BeerAdvocate makes its determinations by compiling consumer ratings for all 50 states and Washington D.C. and applying a weighted rank to each. The weighted rank pulls the beer toward the list's average based on the number of ratings it has and aims to allow lesser-known beers to increase in rank. Only beers with at least 10 rankings to be considered; we took it a step further to only include beers with at least 100 user rankings in our gallery. Keep reading to find out what the best beer is in each of the 50 states and Washington D.C.
50 Most Popular Chain Restaurants in America
YouGov investigated the most popular dining brands in the country, and Stacker compiled the list to give readers context on the findings. Read on to look through America's vast and divergent variety of restaurants—maybe you'll even find a favorite or two.
Take a Pic of Yourself in Yakima at One of these 74 Mural Selfie Walls
Did you know that the city of Yakima, Washington, has over seventy-four (74) murals that would make for a fantastic place to get your sightseeing selfie? You've no doubt taken quite a few selfies in front of popular landmarks and selfie wallls.
Keep your eyes out for one of our unique photo-op murals to add to your collection in your social media pics, and stop and take a memorable selfie of yourself in the heart of Yakima!