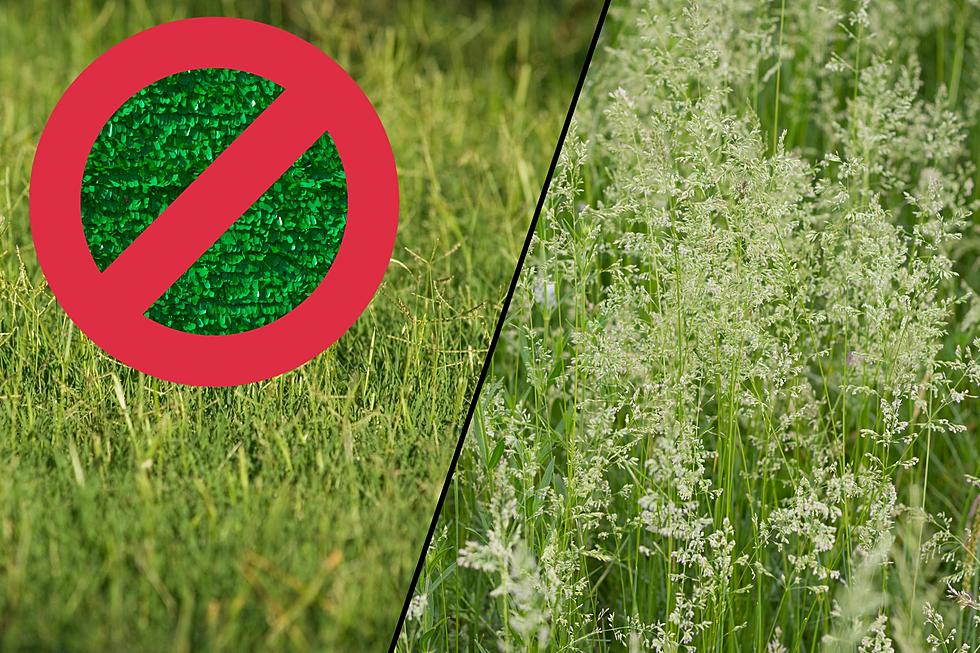 Goodbye, Artificial Turf: Heavy Duty Grasses Being Bred By WSU
Canva-Getty
Artificial Turf Dominates The Sports Field
When it comes to sports fields in the United States - especially football fields - artificial turf is number one. A report from AP News in October 2023 revealed that 71% of college football fields alone use synthetic turf, often due to weather concerns and the cost of upkeep.
Meanwhile, baseball fields have moved away from artificial turf to natural grasses. The Turfgrass Group reveals that as of 2022, only 5 stadiums still have artificial turf. Despite this, Grand View Research predicts that by 2025 the artificial turf market will be at 3.8 billion dollars.
WSU Seeks To Change the Turf Market With Real Grass
Washington State University's grass breeding program has begun a two-year study this fall in order to "identify and breed hardy blends of grasses that can stand up to heavy, constant wear." The effort is led by crop scientist Michael Neff, and stormwater ecologist Kate Kraszewski.
WSU Insider reports that the study, backed by the Washington State Turfgrass Seed Association, has received $695,000 in funding from the State of Washington. Sod fields will be planted at Puyallup, Mount Vernon, Wenatchee, Othello, Prosser, and Pullman. Grass blends are being selected based on their survivability and capacity for self-repair.
Improving and Promoting Living Fields in U.S. Communities
Neff and Kraszewski express that they want to promote and improve living fields in our communities, especially as some U.S. cities are moving away from artificial turf use.
Kraszewski said:
As communities become more urban and we use our public spaces more frequently, we need grass to keep up with the demands we put on it. Grass can help our parks playfields work harder for recreation and for our environment.
Grass fields typically struggle under heavy use. Cleated feet tear up sod and destroy roots. Further damage can be caused by the environmental stresses the local area deals with, making it harder for grass to rebound.
Research Focuses on Grass Resilience and Playability
WSU's research team will study "how well and quickly grass grows back after simulated wear, as well as its playability: how firm, thick, and safe it is to play on." Specialized equipment, which simulates heavy use, is used to test the grass blends. This includes a bolt-studded, tractor-towed cylinder; a cleated device that can measure the torque required to tear up sod; and an "earth cannon" that measures soil compaction.
The team also plans to partner with parks departments, schools, and colleges across Washington. This allows the researchers to test their ideas on a larger scale, while helping organizations get more use from their playfields.
Washington is a Leading Producer of Grass Seed
The grass breeding project adds new research plots west of the Cascades, an area where grass study has been limited. Regardless, Washington is a key producer of grass seed for the United States. 90% of Kentucky Bluegrass is grown in the Pacific Northwest.
Grass is ubiquitous, and a major part of our ecosystems - rural and urban.
"We're working closely with the growers to better serve our state and the nation at large, so we can keep our public spaces green and grassy," said Kraszweski.
WSU's Master Gardener Program Celebrates 50th Anniversary
Wenatchee Valley residents were invited to a free Garden Faire at WSU Tree Fruit Research & Extension Center's community garden in Wenatchee.
Gallery Credit: Terra Sokol
Colorado's Weed Research Laboratory is Absolutely Fascinating
Take a look around the Weed Research Laboratory at Colorado State University and learn about some of the fascinating things that go on there.
Gallery Credit: Nate Wilde